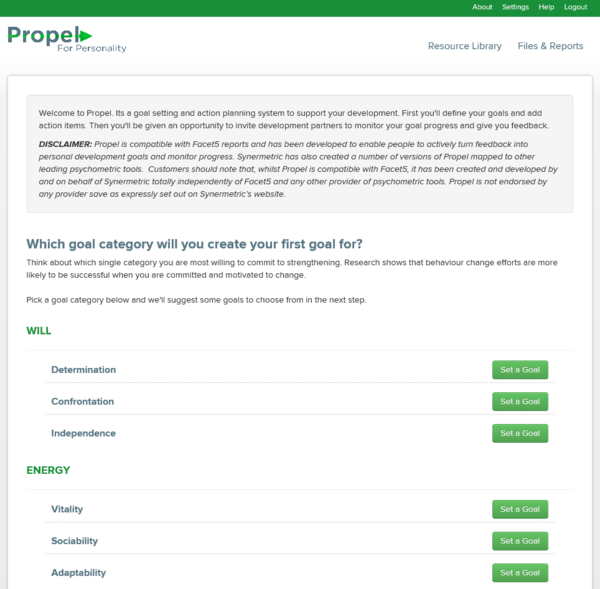 Propel
Propel is a goal setting and monitoring system with its own inbuilt resource center that links directly to your goals. It has been mapped to a number of our tools and assessments: Dimensions, Facet5 (we do not supply the report), Work Behaviour Inventory, Drives, Sales Core Skills Assessment, R2 Strengths Profiler, Career Competency Indicator, Career Liftoff Interest Inventory, WorkSTYLE Profiler. We can map the tool to any assessment that would like too.
+ Propel Standard
Pre-set and customised goal setting options
Practice plans
Ability to add goal mentors, such as managers
A full and regularly updated resource library connected to the key elements from the individual assessment
Ability to upload files
A development feed to combine development activities, updates and comments from coaching and goal mentors
Pulse checks to check on progressThe system will provide nudges at relevant points
Online wizard helps users decide which competencies are important
Automated reminders keep employees focused and accountable
Securely accessible on the Web – anytime, anywhere.
+ Propel Coach
All features of Propel Standard, plus:
Direct collaboration with clients to provide feedback and encouragement
Ability to track client's development plans, assessments, confidential meeting notes, reports, files, and activities online in one place
Goal progress emails keep you up to date in real-time as employees make progress on their goals
Roll-up reports show how many people are making progress and what competencies they are working on
Access 2500-item resources library and add your favourites to goals as action items.
Interested in how Propel can help you?
Use the form to get in touch and one of our specialists will contact you.