Sales Core Skills Assessment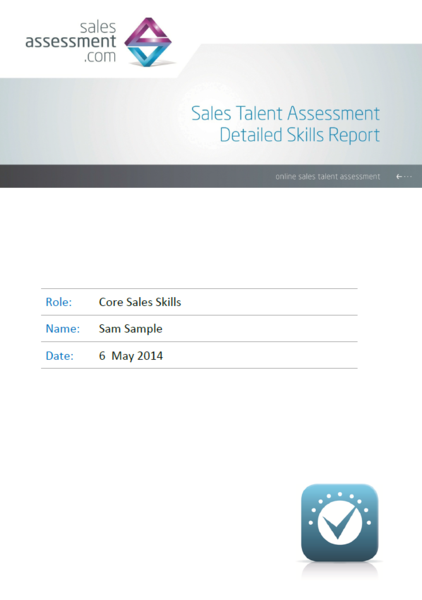 Sales Core Skills Assessment
Sales Core Skills Assessment reports on capabilities required for new salespeople, for salespeople with generic sales responsibilities, or for people where sales forms only a component of their role-- examples might include retail or contact centre staff. The Sales Core Skills Assessment is suitable for the hiring or development of salespeople at lower levels, where the majority of salespeople are employed. Where more depth of insight and understanding is needed, or for more senior sales roles, we recommend the Sales Talent Assessment.
To maximise the value of this assessment, we recommend using it with Propel, which enables and tracks goal setting and action planning after feedback. To get started using Propel with Sales Core Skills Assessment, just contact us.
+ Assessment
40 minutes
150-160 items, 15 seconds per question
Likert scale
+ The Sales Core Skills Assessment measures five core skills:
Business Skills required to establish personal and company credibility with the customer for the purpose of realising benefits from the relationship.

Customer Contact skills required to effectively engage the customer in conversation and start the process of qualification, with the objective of gaining an understanding of the customer's needs. These skills include an individual's intelligence and ability to analyse data, evaluate evidence, question methods and reach meaningful conclusions.

Engaging the Customer. Skills in this area include generating initial interest from the customer and creating rapport.

Information and Activity Management skills required to work effectively and in an organised manner, with clear plans and reports, and with the purpose of facilitating the achievement of goals and targets.

Negotiating and Closing skills required to establish the value of the product and its benefits to the customer and close the deal. This includes an individual's capability with simple financial metrics.
These five factors come together to create an accurate and holistic picture of a sales team, and the individuals within it, allowing for the most effective development or recruitment to be carried out.